Fire Alarm System

High Wycombe, Slough & Maidenhead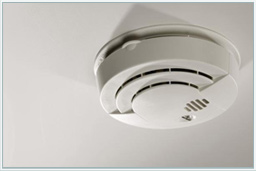 A fire containment system is often crucial when you come up to seeking building control approvals or meeting insurance requirements. But that's not all – it can save you money and even your business if disaster strikes. Installing a total or partial fire suppression system can reduce building and insurance costs, generate operational benefits and give you increased peace of mind.
Full design and installation services
Warning systems not only save lives and property but are usually a legal requirement at business and commercial premises. Fire alarm systems are the most common and effective solution, and we can provide efficient, cost effective equipment to protect your business and meet your legal obligations.
Fire Risk Assessment
Separately, a Fire Risk Assessment is the basis for a business ensuring that it has carried out its obligations to manage the risk due to fire. Where recommendations are made and carried out, this would be 'reasonable' in the face of claims for loss of life or property. The Fire Risk Assessment and report may be called for by insurers and is likely to be referred to in the event of a fire.
Emergency Lighting
We specialise in the design, supply and installation of reliable emergency lighting and fire alarms - making your building much safer in the event of a fire. Our alarms alert everyone in the build to the danger and the emergency lighting ensure safe evacuation in the event of lighting failure. We supply and install the following:
Fire Alarm Systems
Conventional & Addressable Sytems
Analogue Addressable Sytems
Emergency Lighting Systems
Self-Contained Lighting
Emergency conversion of Mains Lighting
Central Battery Systems
Way Guidance Systems
Conventional Fire Alarm System
A conventional system employs one or more initiating circuits, connected to sensors (initiating devices) wired in parallel. These sensors are devised to decrease the circuits resistance when the environmental influence on any sensor exceeds a predetermined threshold.
Modern Addressable Fire Alarm Systems
An addressable panel is a more modern type of panel, and has greater flexibility than a conventional panel. An addressable panel has a number of Signaling Line Circuits (SLCs), where a number of devices are able to be connected, each with its own address. There is no standard protocol as such, and thus a number of proprietary solutions exist. Each SLC polls the devices connected, which can number from a few devices to several hundred, depending on the manufacturer.
An addressable fire alarm system comprises a plurality of heat and/or smoke sensors connected to a control panel.
The sensors are programmed with their unique address codes by successively activating them using a heat or smoke source
The control panel being arranged to transmit successive address codes to respective sensors as they are successively activated.
Each sensor receives and stores its unique address code that is received from the control panel.
The address code of each sensor is thus very straightforward to set.
The system makes it easier to group the location of the sensors according to their address codes.