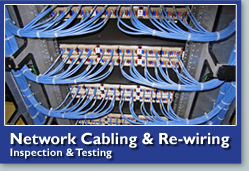 Network Cabling

High Wycombe, Slough & Maidenhead
Electrical Solutions for the Office
Powercom electrical services can provide comprehensive network cabling solutions for high profile companies. We are a competitive and quality assured business with many leading clients using our services.
NICEIC Electrician Approved
Powercom electricians are NICEIC electricians approved installation and testing engineers, providing a fast comprehensive guaranteed electrical service including maintenance and technical facilities in High Wycombe, Slough, Maidenhead, Aylesbury surrounding areas.
Structured cabling systems
Your structured cabling system provides the critical foundation for your business.
The caliber and performance of your Information Systems and the networks they run on, can mean the difference between success and failure in today's competitive business environment. Our structured cabling systems provide outstanding performance, reliability, manageability and a potential for growth.
Data Cabling

Structured Cabling Service
Cable patching and patch panel installations Telephone cabling
Phone System Maintenance Data cable services
Diagnosing data cable, fibre optic cable, PSTN line faults
Install data cable technicians
Urgent call out data cable technician
Emergency telephone system technician
Data Cableing Wall Mount Cabinets, Cable Server Racks
Data Cableing Requirements Analysis & System Specification
Network Cabling Analysis and Network Cabling Design
Fibre Optic Solutions
Installation of Cat5E & Cat6 Structured Cable
Alcatel Phone System Voice Data Cabling Technician
Samsung Phone System Voice Data Cabling Technician
AN / Office cabling - We can perform cabling installations in
ducted and non-ducted premises
Wall Mount Cabinets, PC Racks & Computer Cabinets
Requirements Analysis & System Specification
Structured cabling service for building back-bone connections
Cable moves, cable adds and cable changes to your existing cabling infrastructure
Phone VOIP Network and VOIP Telephone Cabling
Phone System Cabling Maintenance
Switch, Router and Firewall Installation
Why use Sholl data cabling technicians and phone cabling?
Installers
All our Data Cabling Technicians are KRONE Premis NET certified, highly experienced and fully trained ACA Licensed offering a complete service from network design through to documentation.
Voice & Data Cabling
Sholl Communications provides telephone and data cabling and fiber optic cabling network installation for your communications needs.
We can successfully and affordably cable your facility for voice and data networks. Cabling includes termination of the wire on a jack in the office and on the wire terminal block in the equipment room.
Server Rack Cabling
We can install a server rack and patch panel for even more functional access to your high-end communications equipment and network server.
We will label all jacks and label your patch panel, as well as provide you a network schematic with all jack numbering for your records.
Helpful Links